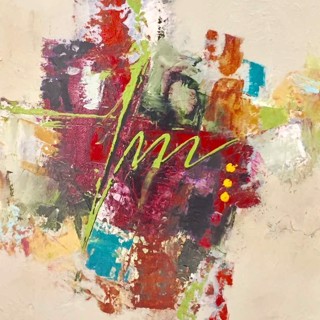 A native of Birmingham, AL, John Hyche attended public schools where he remembers taking only one art course. Even then, however, his painting was abstract. Though he maintained an interest in art, it would be some 35 years and retirement from his first career before he returned to his love of art.
His first attempt at returning to art was to take a short course in realistic painting, but it was not long before he returned to abstraction. John's masterful abstractions are among the most sought-after paintings by collectors in the southeast as well as nationally. His self-taught style is one in which lines, shapes and colors, along with the addition of found materials come together in expressive and passionate canvases.
John was formerly the director of an art gallery in Birmingham until 1997 when he decided to pursue his love of painting full-time. His works hang in numerous private and corporate collections including Compass Bank, Eason Graham & Sander, Inc., Ray and Co., Burr & Foreman, Attorneys, and Winston Groom, author of Forrest Gump.
Read More